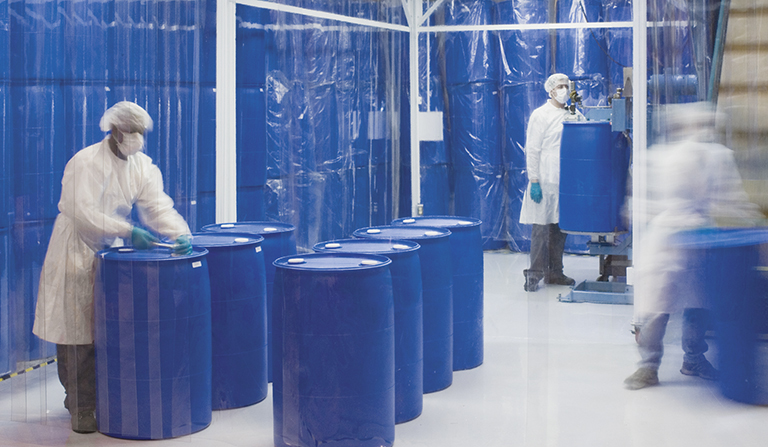 Maumee, OH – U.S. COEXCELL has set the standard for producing bulk storage drums for the electronic wet chemical and pharmaceutical industries, where the ultra-high purity of its 55 gallon & 30 gallon drums is of critical importance.
According to Jeff Holdman,  Vice President and General Manager of U.S. COEXCELL, his company took the lead in producing bulk packaging for these industries after developing a proprietary manufacturing and quality assurance process to maintain the stringent standards required to meet the contaminant minimization thresholds that are demanded by their customers. Mr. Holdman said, "But beyond the physical plant, the equipment and the processes, the real keys are oversight and discipline."
Holdman explained, "We take very seriously the exceptionally high value of the products our drums will need to contain without exposure to outside contaminants. We know we have a highly regarded process for running our ultra-high purity drums. The real requirement for us is  to assure, and reassure ourselves and our customers that the drums that we provide them are the cleanest in the world"
U.S.  COEXCELL has designed its protocols and systems to provide multiple points of both human and machine checks. The company's proprietary ICAS (Integrated Clean Air System) high-purity technology has been in operation for over 20 years and is dedicated to the continuous manufacturing of co-extruded ,multi-layer ultra-pure drums of peerless quality.
According to Holdman, "We utilize a multi-stage manufacturing and quality assurance process that begins with the stringent check-in and handling/storage of our raw materials and component parts, that insures absolute traceability. This traceability is preserved during manufacturing and post-forming where each finished drum is given a unique numerical identifier. This number provides a wealth of information, including the raw materials that were used to build the drum, all the way to the machine upon which it was manufactured, the operator who built it and the date and time it was built" Holdman said.
"Our high purity drums follow our "path to purity" precisely, consistently and within our highly disciplined methodology, drum after drum," concluded Mr. Holdman.