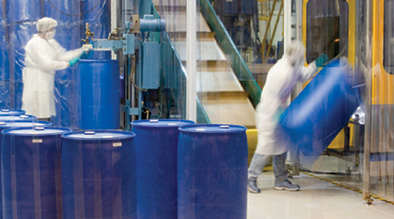 Maumee, Oh – The quality assurance team at U.S. COEXCELL has announced that its quality management system has been re-certified in accordance with ISO 9001:2015 standards. According to Jeff Holdman, Vice President and General Manager, "This re-certification is symbolic of the ongoing quality commitment our entire staff puts forth daily to assure our customers receive a consistently superior product."
Representing an international consensus regarding good management practices, ISO is a set of high standards dealing with quality management and assurance objectives. ISO certification is a sought after designation that recognizes the company can consistently deliver their products and services to meet their customers' quality requirements.
ISO certification ensures that all of the high purity, multi-layer drum packaging made by U.S. COEXCELL is manufactured using an ISO 9001:2000 quality management system. From the time a quote is requested until the product is shipped to the customer, U.S. COEXCELL assures uniformity in the development, production and delivery of their products.
Chris Plowman, QA Manager, helped lead the company's efforts to re-certify the company and believes it helps U.S. COEXCELL differentiate itself from its competitors. He said, "The positive management team at U.S. COEXCELL is dedicated to providing unparalleled service as well as continual improvements to supply our customers with the highest quality drums. We expect to continue our 10 year tradition of securing this distinction well into the future. We work hard to meet and exceed the expectations of our customers and we are proud to be recognized for these efforts."
For more information about U.S. COEXCELL products and services, contact Mark Wotell at 419-897-9110 or email him at mwotell@uscoxl.com.